Sep 7, 2009
Posted on 7:25 PM by abhishek jain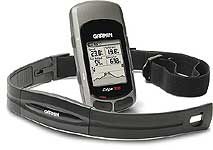 In January this year we met Clark Weber at the CES expo in Las Vegas. Clark is responsible for Motion Based a company recently acquired by Garmin for its expertise in GPS analysis software. This was significant for us because Garmin also showed some new Sports and Fitness GPS devices. One of these was the new Garmin Edge.
The Garmin edge is based on the highly sensitive SiRFStarIII chipset and is a GPS system dedicated to the sport of cycling. One of my favourites. Garmin have designed the Edge 305 specifically for the cycle enthusiast who wants to monitor performance over time. Not only does it record the normal GPS historical data, but it also has the capability to record heart rates and cadence as well.
This is where Motion Based comes in as the data can be uploaded to the Motion Based system and then analysed in detail and comparisons made with past performances. The data can also be exported or shared with other users in the Motion Based community.
As there are a number of different disciplines in cycling we have decided to do a slightly different review for the Garmin Edge. Apart from my normal review we have taken the opinions of a number of different cycle users and seen what their views and usefulness of the Edge is to their cycling life.
Quick Navigation
Overview
Specifications
Review
User Reviews
Analysis Software
Conclusions
Resources
The Garmin Edge 305 Manufacturers Specs
The following specifications have been obtained from the Garmin website www.garmin.com:
Specifications
Training timer features Training data: Can display training time, pace, distance, lap pace, lap time, lap distance, average and best pace, elevation and calories
Customizable screens: Choose from up to 37 data types
Lap History: Automatically records up to 1000 laps by day or week; stores approximately two years of data. Download histories to your PC using included software
Training assistant Courses: Download recorded courses and compete against previous workouts
Auto Pause®: Automatically pauses the training timer when you slow down below a specified resting pace; timer resumes when you start running again
Auto Lap®: Automatically triggers a lap when you reach a specified distance or location. Allows you to run anywhere and still get accurate performance data
Auto Scroll: Cycles through data pages during a workout
Multi-sport: Set up profiles for running, biking and another sport
Advanced workouts: Set up workouts with specific durations and targets (speed or heart rate)
Quick workouts: Allows you to input training goals based on time, distance and pace
Virtual Partner™: Displays a graphic "virtual partner" that will run with the set goal, so you can see at a glance if you are keeping up or falling behind. Works with courses and workout features
Pace alert: Alarm sounds if you are slower or faster than the pace you've input
Time/distance alert: Alarm sounds when you reach the specified time or distance
Interval training : Allows you to set up exercise and rest intervals and number of reps
Navigation features Receiver: SiRFstarIII™ high-sensitivity GPS receiver
Antenna: Built-in patch; points to the sky when wrist's in motion for optimum performance
Mark location: Mark and save up to 100 locations
Find location: Look up and navigate to stored locations
Map mode: Electronic map shows your location, along with marked locations. Pointer arrow shows direction to travel when navigating to a stored location
Physical
Display: 1.3"W x .8"H, 160 x 100 pixels
Size: 2.1"W x 2.7"H x .7"D
Case: Waterproof to IEC 60529 IPX7 standards
Temperature range: -4° to 140°F (-20°C to 60°C)
Analyze Workouts
Garmin Training Center™: Included software lets you create and schedule workouts, analyze your data and store it. Full comparability with Windows and future full compatibility with Mac
MotionBased™: Web-based application from Garmin that provides more in-depth analysis of your workouts. MotionBased.com provides an online training log, interactive mapping and the TrailNetwork, which allows you to post and share routes with fellow athletes. Full compatibility with Windows and future full comparability with Mac
Features unique to the 305 Heart rate monitor:
wireless design; eliminates crosstalk
Display: Shows heart rate (beats per minute) and zone (between 1 and 5)
Alerts: Alarm sounds if you reach specified minimum or maximum heart rate
Forerunner series comparison guide
Here's how the units are different:
Forerunner 205:
Measures time, distance, pace, altitude and calories burned
Forerunner 305:
Measures heart rate, time, distance, pace, altitude and calories burned
Compatible with Garmin speed/cadence sensor, GSC 10, to monitor pedaling cadence when cycling

Add Post To: | Digg| Technorati| del.icio.us| Yahoo| Simpy|Stumbleupon| Reddit| BlinkList| Furl| Spurl|

Popular Posts @Tech-Crat
 Coming Soon...    on 12 march 2013... Let's have first look on Xperia ZL :- Slimmest handsets available today , just 7.9mm in de...

Motorola is reported to have signed a definitive agreement with Ferrari to announce the availability of their all new Motorola i9 Ferrari h...

"Touch" is the name that the Tech world is currently having a hangover of. So, one of the biggest leaders in the arena, Sony, is out with a ...

Charge two devices at once with this compact All-in-One charging device. Connects your mini/micro-USB handset to your 12vDC vehicle power o...

It's been almost three years and the whole $1 app ecosystem the App Store embodies still makes old school video game industry people about ...

Specification and performance Me X1 comes with a 16:9 aspect ratio, 7 inch capacitive touch display that produces decent images at 800 x...

Vodafone UK has start taking preorders for HTC flagship Android smartphone Sensation. HTC Sensation, which was launched recently, comes ...

The Samsung Galaxy Grand is the latest big-screen Android smartphone . But this isn't a handset that will have Galaxy S III or...

Dell has announced its new low budget laptop Dell Vostro 1014.Vostro 1014 comes with high quality features and high specifications.The main ...

Tech-crat listed on
URL Submitter
Blogs


Blog Directory



Search Engine Optimization and SEO Tools
Official Free Search Engine Submission
Rate Me on
BlogHop.com
Dmegs Web Directory
motel for sale suffolk
Submit URL Directory!
AA Car Insurance
Verizon Wireless FIOS
Submit your Site
BackLinksFactory.Com
R4 cards for the DS, DS Lite and DSi
Create web links for free and help improve your search engine position
BackLinksFactory.Com
Grow your Pagerank
Free web directory
MagDalyns Online
Piseries Link Directory
Free Web Directory
SEO Business Marketing Directory
SEO friendly free link directory
Hostrator Directory
Free Link Submission Directory, Improve Website Rank with LinkInsanity.com - Submit Your Website
GoGoSun.net - Best Sites Under the Sun - Free Link Submission Directory - Website Submit - Site Lists
Best Website Directories
Mozizona - Submit Your Site
Lurpo - SEO Friendly Web Directory
Free Web Directory
Chaqra Directory
DevoteClub - Submit Your Site
ivisu.org
Site Name
ApleinTubes Directory
Seven Directory
Web Directory
Aqard - Submit Your Site
YXDMW Web Directory
Jointmc - Submit Your Site
Link Listings
Free Web Directory
Nepotistic Directory
Oloffson Directory
Mistu Directory
Foqe Web Directory
Bedava Master
MicroWho
DLOAB Directory
add url
Web Directory
InvestHZ.com
Skoobe Link Directory